Austin FC got back to winning ways at home against Minnesota. Before the match both teams started with eight points on the season. Through six games, ATXFC find themselves in fourth place in the Western Conference on goal difference, now just two points out of first.
The only change to the lineup this week was Hector Jimenez in place of Nick Lima at right back, making his first start on the season. Jimenez played well all match culminating in an assist later on.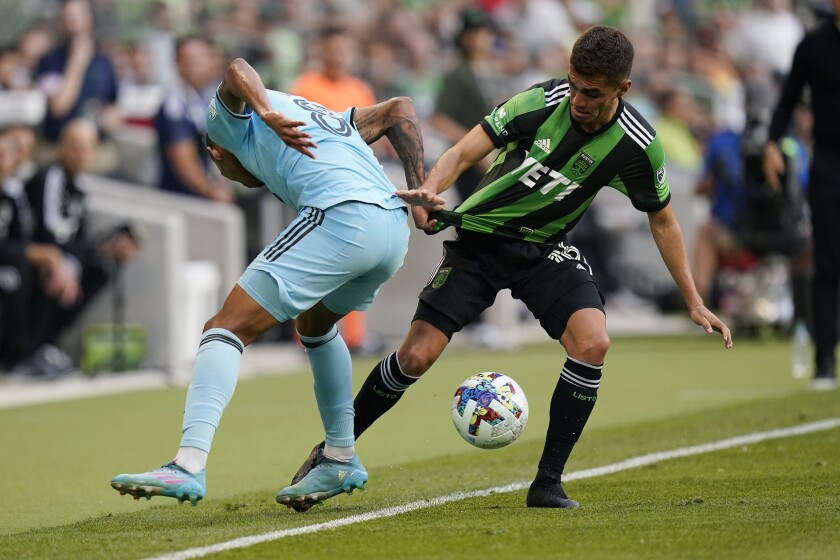 The first half was mostly a dull affair with neither side really threatening. Minnesota mostly attacked on the left-wing targeting Jimenez. None of these attacks amounted to much of anything.
Like most home matches, Austin had the lion's share possession in the first half. despite dominating possession Austin rarely threatened Minnesota's goal. The problem was really end product.
Austin's game plan seemed to be attacking down the wings and floating in crosses to the back post. But of 11 attempts at this, only one found its target. It also seemed that there was a real lack of decisiveness on the part of the Austin attack.
There were several opportunities to put balls on net or across the six-yard box, but too often these opportunities resulted in not even an attempt on goal. although the first half was boring the defensive pairing of Gabrielsen and Cascante played well.
The second half started off much better for Austin. In the 49th minute, Pereira lofted a back post cross finding Fagúndez who headed it down to Alex Ring. Ring's bouncing attempt went just over the crossbar. Just a few minutes later Minnesota's Rosales stung the palms of Stuver, their best opportunity on the night.
In the 58th minute, Jimenez's cross found Urruti right around the penalty spot. Urruti buried the volleyed effort, his second excellent finish in as many weeks.
Later on, Urruti had one more good chance. He did an excellent job chipping Minnesota's keeper, St. Clair. However, excellent positioning from Michael Boxall allowed him to clear the attempt off the line.
Austin continued to threaten, culminating in opportunity for Driussi. Driussi could not beat St. Clair, however, and would not get anything on the score sheet for all of their efforts.
There were several nervy moments late in the game, particularly from a Minnesota corner kick in 82nd minute. The near-post corner was flicked towards the back post, beating Stuver. Luckily Fagúndez was present to clear it off the line.
Overall, Austin played well. They fully deserved the three points. Better finishing, and this match would have been out of sight much earlier. That being said, the defense played much better tonight. They notched their first clean sheet since the home opener against Cincinnati. Playoff teams win at home, and Austin looks to be track in that department. Now the results on the road need to come.
Final Score: Austin FC 1, Minnesota 0.
Next up, Austin FC travel to our nation's capital to take on DC United, who only have 6 points after 5 games, on Saturday, April 16th.
Three Takeaways
Redemption for Gabrielsen/Cascante
There has been a lot of talk on social media regarding this defensive pairing. Many have been crying out for Kipp Keller to start. Although Keller may be the starter of the future in Austin, Wolff's persistence paid off tonight. Both Gabrielsen and Cascante played really well. They recovered quickly, they played passes out of the back (mostly) with precision, and they were positionally superb on Minnesota's counters. Hopefully this is a sign of things to come!
The Back Post Cross
The back post cross is a tactic that Austin used frequently tonight. Other than Ring's opportunity in the second half, this tactic rarely worked. These crosses were mostly under hit, so maybe on a different a few these produce some dangerous chances. But today was not that day.
Playoff Team?
Los Nerdes Verdes did an excellent analysis on points playoff teams usually get both at home and on the road. The average points per game for a playoff team are around 2 pts/game at home and 1.2 pts/game on the road. So far this season, Austin have averaged 2.5 pts/game at home. However, they have earned just 0.5 pts/game on the road. These are small sample sizes, so we'll revisit this at a later date. But in the meantime, small improvements tactically on the road could go a long way to earning a playoff spot.
Goal Scoring Summary
Austin FC Goal Scoring Summary
58' – Maxi Urruti (Hector Jimenez)
Goal Scoring Summary – Minnesota
(Cover Photo Credit: Austin FC/Instagram)
If you purchase through our links, we earn a commission that will help support our content.