Austin FC gave away a two-goal lead in the second half for a disappointing 2-2 draw away to the San Jose Earthquakes. Through five games, ATXFC still find themselves in third place in the Western Conference on goal difference, now five points out of first.
Two changes to the ATXFC starting lineup saw Diego Fagúndez starting in place of Cecilo Domínguez and Maxi Urruti replacing Moussa Djitté. Both Fagúndez and Urruti returned to their starting spots after a week off, while Domínguez did not make the trip to California.
The first half started well for ATXFC. The verde and black absorbed mild pressure from the Earthquakes and looked to spring counterattacks. The first chance came in the 9th minute, as Alex Ring skated by his defender and stung the palms of San Jose's keeper, James Marcinkowski.
Just two minutes later, ATXFC would strike first on a superb effort from Urruti. Julio Cascante put a long ball over the top for Urruti, who took it down, and hit it off the volley from 25 yards over Marcinkowki's head. On pure skill, this must be the finest goal in Austin's short history (more on this below).
Austin had other several chances in the first half they could not put away. In the 25th minute, ATXFC had a 2-on-1, but Ethan Finlay's cross to Fagúndez was poorly placed and amounted to nothing.
In the 40th minute, Ring found Finlay unmarked at the back post. However, Finlay blasted that chance over the bar. Austin would come to regret those opportunities in the second half.
Early in the second half, ATXFC again looked to be the dangerous side. Daniel Pereira made a charging run down the left wing and was taken down in the box by Jackson Yueill. Penalty! Sebastian Driussi absolutely smashed the ball into the roof of the net, putting ATXFC up 2-0.
From this point on, Austin appeared to sit back to try and protect this lead. San Jose put immense pressure on Austin's defense for the remaining forty minutes.
Just a few minutes later, Stuver made an exceptional save, palming a shot of the crossbar and then kicking it off the post and out of his goal area. Shortly after, Nick Lima took down Ousseni Bouda in the box resulting in a soft penalty to the Earthquakes. Jeremy Ebobisse coolly slotted home the penalty, pulling one back for the home side.
Immediately after, Austin conceded a corner resulting in more set pieces defending issues for ATXFC. Austin attempted to clear the corner with a header, but the ball bounced around the box and fell to the feet of Cade Cowell. Cowell got past Ring and put the ball past Stuver to tie the match at 2-2.
The last 20 minutes were tense for Austin as San Jose continued to pile on the pressure. The culminated in a chance for Francisco Calvo in the 88th minute.
Cascante played a sloppy pass to Ring just outside the Austin penalty area. Ring was dispossessed by Ebobisse who forced a save out of Stuver. The rebound fell to Tommy Thompson, whose shot was saved yet again by Stuver. This second rebound fell to Calvo, who blasted the volley over the bar, and over an empty net.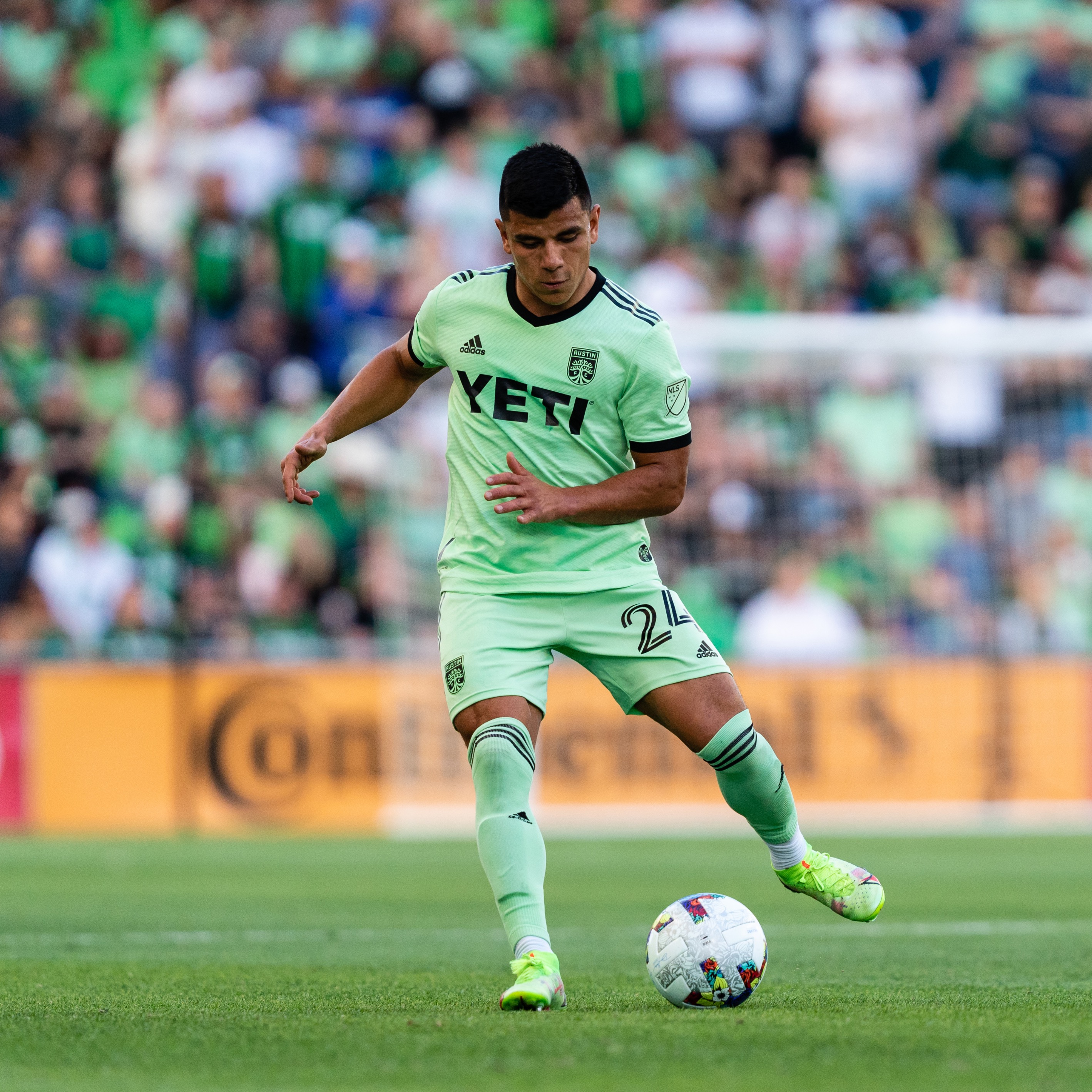 Overall, this result is gutting. Not because I felt Austin deserved to win. Austin played well for the first 55 minutes. Their subsequent collapse is what was disappointing. The fact that this is more of the same in terms of away performances as last season is a bit shocking.
Given how well they started out tonight, and how well they played in Portland last month, I was lulled into a false sense of security that the job was finished at 2-0. Hopefully this lapse in concentration explains what happened for the team as well. Time will tell.
Final Score: Austin FC 2, San Jose 2.
Next up, Austin FC comes back home to Q2 to take on Minnesota United, who also have 8 points after 5 games, on Sunday, April 10th.
Three Takeaways
A Masterpiece from Maxi Urruti
For me, Urruti's goal is the best goal in Austin FC history. We have some sentimental favorites such as Diego's first goal in club history, or Gallagher's first goal at Q2. And we've had some truly skillful goals, like Jimenez's against Portland last season or one of Driussi's against Miami last month. But this goal. The way Urruti hit on the volley. The way it looped perfectly over the keeper. For me, this is the clear winner.
Out-possessed and out-played
The second half of this match was concerning to say the least. We don't really lose the possession battle too often. Add that to being thoroughly outshot as well, and it's clear we merely survived that second half. It reminded me of that away match in San Jose near the back half of last season where the wheels just came off. The only difference tonight is we gave ourselves a two-goal cushion. The only positive, other than that Urruti goal, is that we did end up with a point on the road. That point might not seem so bad at the end of the season as it does right now.
Rules are Cool
Apparently, you are allowed to bicycle kick your opponent in the face without getting so much as a yellow card. No additional commentary. This is just something I learned tonight.
Goal Scoring Summary
Austin FC Goal Scoring Summary
11' – Maxi Urruti (Julio Cascante)
52' – Sebastián Driussi (Penalty)
Goal Scoring Summary – San Jose
70' – Jeremy Ebobisse (Penalty)
72' – Cade Cowell (assisted by Ján Greguš)
(Cover Photo Credit: Austin FC/Instagram)
If you purchase through our links, we earn a commission that will help support our content.